Tuesday May 28th, 2019 :: 04:14 p.m. PDT
Community
Message from Aware and Prepare Alerts:
There is a chance of thunderstorms Tuesday through Friday (May 28 – 31, 2019) across the local Santa Barbara County Mountains and a slight chance that these thunderstorms will reach the coasts and the valleys. Brief, heavy downpours, gusty winds, lightning, and local flooding of roadways and arroyos are possible with thunderstorms. Rainfall rates are forecast to be below debris flow thresholds for SB County burn areas at this time. Campers and hikers should closely monitor the weather. Stay out of washes, creeks and streams even if storms are far away. Do not attempt to drive through flooded roadways. Government agencies will continue to monitor the situation.
la posibilidad de tormentas eléctricas empezando el martes hasta viernes (28 al 31 de mayo de 2019) en las montañas locales del Condado de Santa Bárbara y una leve posibilidad que estas tormentas eléctricas alcancen las costas y los valles. Breves lluvias intensas, ráfagas de viento, relámpagos, e inundaciones de carreteras y arroyos son posibles durante tormentas eléctricas. En este momento, se prevé que las tasas de lluvia estarán por debajo de los umbrales de flujo de escombros para las áreas quemadas por previos incendios en el Condado de Santa Bárbara. Los campistas y excursionistas deben vigilar el clima atentamente. Evite los arroyos y riachuelos, incluso si las tormentas están lejos. No intente conducir por carreteras inundadas. Las agencias gubernamentales continuarán monitoreando la situación.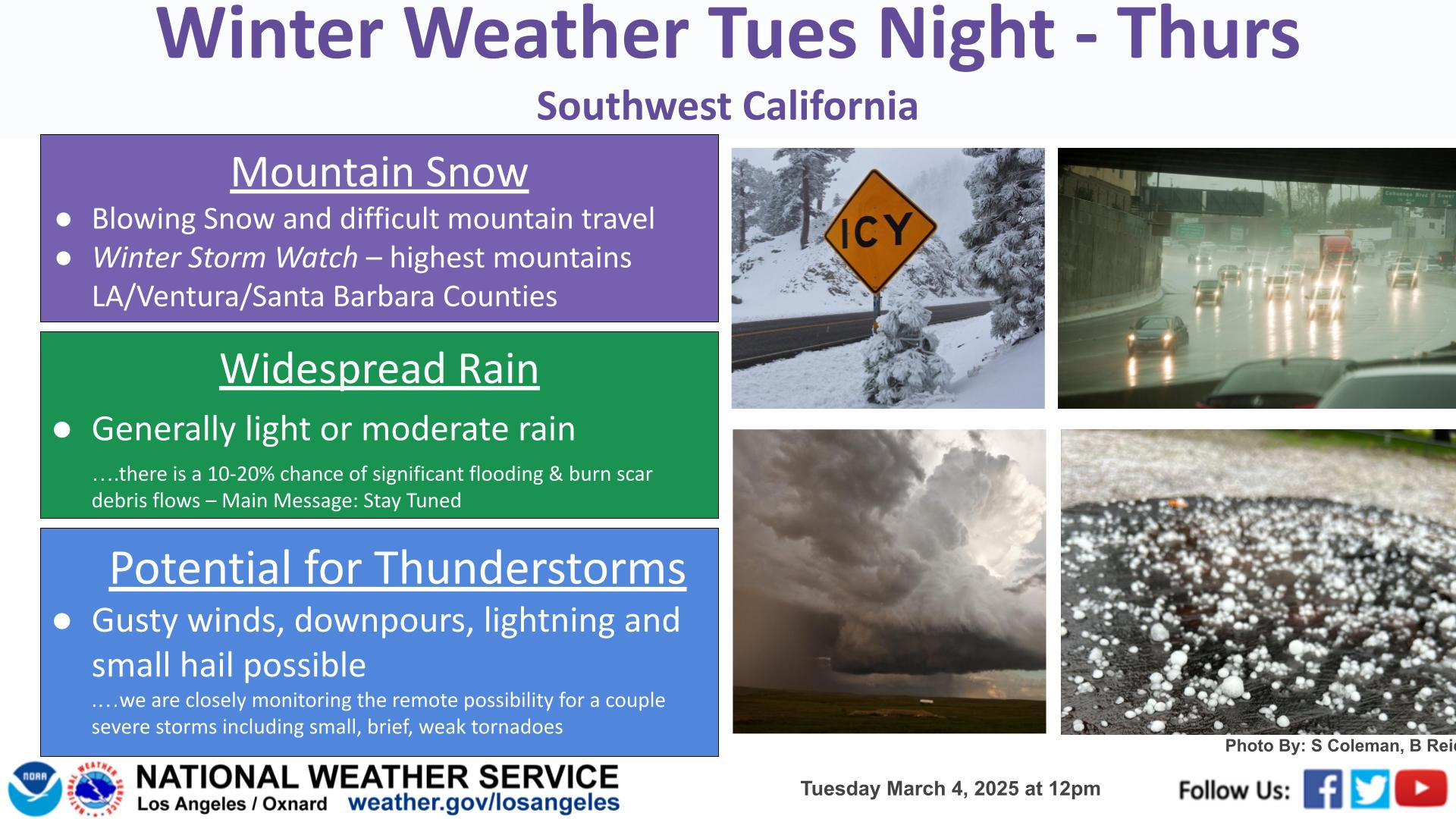 Address/Location
Santa Barbara County Office of Emergency Management
4408 Cathedral Oaks Rd
Santa Barbara, CA 93110
Contact
Emergency: 9-1-1
Non-emergencies: 805-681-5526


More Messages
Navigate & Discover